---

---
---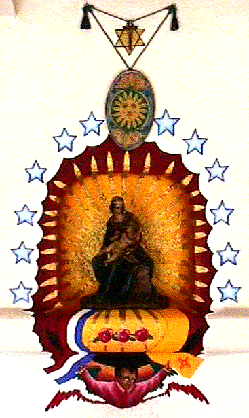 ---
---
---
---
The premise for the mural was borne from the struggles that some of the people in New Mexico have with being connected to Mexico, and in being a part of the history of the hidden Jews of the Southwest Again, we are the children of the conquest...European fathers and indigenous mothers.

The Star of David that lies behind the crucifix signifies that Jesus was a Jew. The twelve stars that surround the nicho describe the 12 tribes of Israel, the twelve months of the year, the 12 step program, the 12 days of Christmas, and especially what our Lady of Guadalupe symbolizes...a totally new creation, a totally new vision of the new humanity, and a new cosmic order.

John the apostle had a vision, which he cited, "And a great sign appeared in heaven: a woman clothed with the sun and the moon under her feet and upon her head, a crown of twelve stars..." (Rev. 12:1-2).

The angelito negro appeared on Juan Diego's tilma, its wings are painted with the colors of the Mexican flag, the angel holds two ribbons: the colors of the American flag, and the flag of New Mexico - all this symbolizing the new order: the mestizo people of the Americas.

The nicho has the rays which surrounded nuestra Senora, and within the nicho is the Virgin Mary holding the child, Jesus. The roses depict what Juan Diego took back as proof of the apparition at Tepeyac.
---
Email Helen at: hrael@pacbell.net
---
---
---
---
---