---

---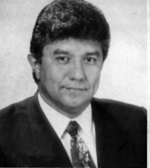 Mr. Thomas Rodriguez is presently employed as the Executive Director, Diversity and Affirmative Action Program for the Clark County School District , currently the nation's 10th largest school district and the largest employer in the State of Nevada.
He previously worked as a Senior Analyst at the Clark County Manager's Office. Mr. Rodriguez has 22 years experience as a public Administrator.
Originally for Kansas, Mr. Thomas Rodriguez moved to Las Vegas in 1981, and quickly became an active member of the community.
His volunteer services in the Hispanic community include: Board of Directors, Latin Chamber of Commerce (1989-91: President, Hispanics in Politics, (HIP) (1986-89); Vice-President, Nevada Association of Latin Americans, (NALA) (1984-85); Vice-President, LULAC Council #11081 (1983-85); and Project Director, Southern Nevada Language Issues Coalition, Excellence in Education symposiums, I, II, and III (1991-93)
Mr. Rodriguez is presently Chairman of the Latin Chamber of Commerce Career Day Program Committee (1994-Pres.) and Co-Founder/Co-coordinator of the Latino Youth Leadership Conference (1993-Pres.).
A accomplished author and journalist, Mr. Rodriguez has written and published five books documenting the Hispanic experience in the State of Nevada, as well as numerous other articles, editorials, newsletters, and manuals on a wide variety of social, economic, business, educational and political issues related to the Hispanic Community in Las Vegas and Nevada. The following are some of his books:
Hispanic Profiles in Nevada History: 1829-1991

---

A History of the Latin Chamber of Commerce of Nevada: 1976-1989

---

Quien es Quien: A Who's Who Directory of Hispanics in Nevada

---

A Profile of Hispanics in Nevada: An Agenda for Action

---
A Vietnam Era Veteran, Mr. Rodriguez completed his degree in Psychology (1972) and later earned his Masters Degree in Public Administration from the University of Kansas (1978).
Thomas Rodriguez can be reached at:
Diversity and Affirmative Action Programs
Clark County School District
2832 East Flamingo
Las Vegas, NV. 89121
Tel. (702) 799-5087, or E-mail to: